Rei Nakazawa's Homepage
Welcome to the official homepage of Rei Nakazawa - freelance writer and general man-about-town. It's been a long time coming, but I hope my longtime fans (all three of you) will find it worth the wait!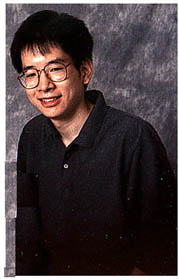 For those of you who don't know who I am, I'm a writer (currently freelance) who made my biggest mark on the classic collectible trading card game Magic: the Gathering. My first major writing gig was with the late great InQuest Gamer magazine, which blossomed into a job with Wizards of the Coast as a Staff Writer for Magic. These days, I still write for WotC on a freelance basis, and have recently gotten into a similar business relationship with Upper Deck and their trading card games. Nowadays, I'm looking for a permanent job, either in the gaming industry as a writer, or as a technical writer in any industry (having completed a certification in Technical Communication at the University of Washington).
The purpose of this website is to give folks (strangers and intimates alike) an idea of who I am and what I do. Hope you enjoy what my life and work have to offer!
Here's what you'll find on this site right now:
My resume, of course. If you're looking for a good writer, or just curious about my past misdeeds, check it out! Also includes links to professional profiles, like on LinkedIn.
Some facts about my personal life, thoughts, and opinions. For masochists only!
Samples of work I've done for Magic and other games (visuals included!).